We're sorry, but all tickets sales have ended because the event is expired.
2023-NER-TTT-002 Train the Trainer Course


March 10, 2023 - March 11, 2023




5:00 pm - 6:00 pm

THIS IS THE OFFICIAL PAYMENT SITE FOR THE MARCH 10-11, 2023 TRAIN THE TRAINER COURSE TO BE HELD AT GOODWILL CHURCH, 170 WEST MAIN ST, PORT JERVIS, NY.  YOU MUST ALSO REGISTER ON THE TRAIL LIFE CONNECT CALENDAR AT THIS ADDRESS.  
TTT is the National Initiative Training ("NIT") course that prepares and certifies adult leaders to present other TLUSA courses. TTT focuses on developing effective presentation and teaching skills, classroom management, teaching styles, and is the certification required to teach NIT courses. Some exceptions may be extended to those who have extensive experience as trainers in previous TLUSA training; however, all must eventually attend a TTT.
This event will be hosted by Troop NY-4110 and held at GOODWILL CHURCH, 170 WEST MAIN ST, PORT JERVIS, NY starting at 5pm March 10 and concluding on March 11 at 6pm.   At this Train the Trainer Weekend you will learn how to present training materials for Trail Life USA. We will cover best practices for teaching and presenting presentations, how to teach Trail Life USA's 3 Peaks trainings as well as various other training treks, group facilitation principles, and other valuable teaching skills.
Registered adults who successfully complete the in-person Train the Trainer course are qualified and approved to serve as Course Director for any Trail Life USA national training initiatives, including the 3 Peak course and Train the Trainer. They also receive a pin for their lanyard and an icon will appear on their Member ID the next time it is printed following the course.  All Point Men and/or members of their Area Teams are strongly encouraged to attend this course.  Individual troops may also consider having a person in their troop able to lead training for their troop and nearby troops.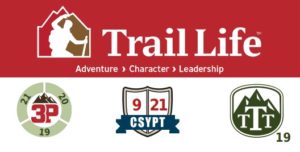 At this course each participant will be afforded the opportunity to give two examples of their presentation styles…one from either Peak One (Introduction to Trail Life) or  Peak Two (Troop Operations) and one from Peak Three (Introduction to Outdoor Leader Skills).  Each presentation should take between 5-7 minutes.   Your assigned Trail Guide and fellow patrol members will be your "Trailmen" and will follow with some helpful suggestions.  We are asking you select your topics from the following:
Peak 1/Peak 2 (click on each topic for the PowerPoint presentation and speaking notes)
Session 106 Woodlands Advancement
Session 107 Adv/Nav Advancement
Session 209 Christian Worldview
Session 210 Ceremonies
Session 211 Service
[Note…while the speaker notes are there, it would be better for you to put the key points in your own words and not read or memorize the speaker notes.  We will have a video projector with your presentations pre-loaded, so no need to bring anything other maybe than speaker notes/cue cards, if you'd like]
Peak 3 (note these are not scripted presentations, use the Trailman's Handbook and your own personal experience)
Session 302 Fires & Fire Safety
Session 303 Map & Compass
Session 305 Woods Tools
Session 307 Knots & Lashings
Session 308 Camp Games & Skill Competitions
Session 310 Tread Lightly
Costs: $40 for participants and $24 for staff members.  This includes materials, food and some floor space for "camping" in the church for about 15 folks.  There is no place outside the church to camp.  Three meals provided on Saturday. Plus Friday evening snacks.  There are a few local hotels nearby should folks want a more "glamping" like weekend!
Note that there are no pre-requisites for the course other than a zeal to share with others about Trail Life.